Smokey eyes are something that can never goes out of style and fashion world. It is kind of eye makeup which suits all you ladies. If you are going to a party or just another day, you can dress this one and I assure you that you will just look gorgeous. It is an art of eye makeup that even if you are in a rush and don't have much time, this kind of makeover give you even then polished look. This look is quite a simple one that takes hardly anytime at all to pull off.
It doesn't matter that what kind of occasions, you are going to attend, purple color is going for all. You can take different shades of purple eye shadow, which are appropriate for a different occasion. So now if we combine the above discussed points, i.e. smoky and purple eye makeup, this combination is just irresistible, especially for night party. The purple Smokey makeup give you always glamorous look. You can wear it on your next formal occasion. This color gives you so many options in terms of its shades, that you can use in casual ,everyday occasions and some on formal occasions.
Purple is not only fashionable color but its mysterious vibe make it even more attractive. If you are makeup beginner, purple eye shadows is a must in your cosmetic boxes. As discussed above, whatever occasion you are going to attend, the purple shadow will always be gorgeous. The only thing about you should be careful is how to apply the purple shadow in a right way. Otherwise, you may look dull. Additionally, time of occasion should be considered while choosing the shade. Like shimmer smoky makeup catch our attention instantly but it looks good only at night times. Along with shades, there are many other things, upon which you should concentrate like If you want your eyes look bigger, just apply the thick curly false lashes and so on.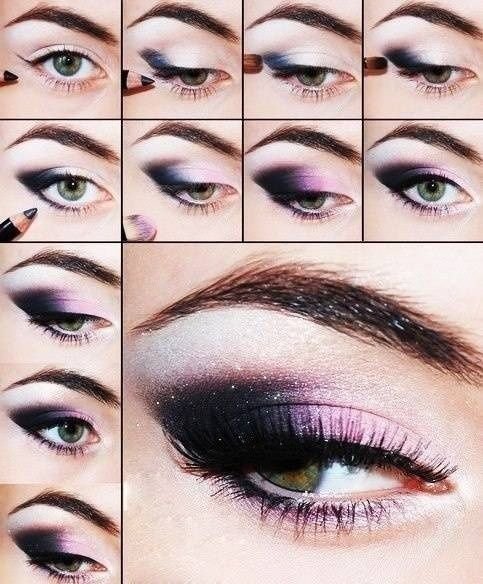 Purple Smoky Eyes Makeup Tutorial Step by Step guide
If you are purple lover and want to have a purple Smokey makeup, then continue reading. You will be able to make it by yourself. Let's start.
First of all, wash your face and put some moisturizer if your skin is dry.
Now prep the eyelid with a primer in order to ensure longer-lasting color.
Apply a light pink eye shadow onto the eyelid, preferably take shimmery pink. Let it from the lashline all the way to past the crease.
It is recommended to take dense eye shadow brush.
Now define the crease and lashline with a bit darker color such as blue.
Take a black pencil and line the upper and lower lashlines. Do it as neat as possible.
Soften the line by smudging the dark blue shadow on top with a small brush.
Blend off harsh edges with the help of small tapered blending brush.
Add a dab of the pink shadow on the center of the eyelid with a damp brush for an extra pop of color
Now brush a frosty white shadow under the brow bone. It will highlight all your activity that you have done till now.
Never forget to curl your lashes and coat with black mascara. If you want that your eyes look bigger then apply fake lashes.
Fill in your lashes with a brown brow powder that is lighter than your natural brow color, in order to make and look your eyebrows soft.
At the end, clean up any eyeshadow fallouts before applying foundation and concealer.